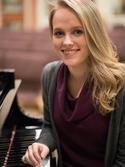 Kirsten started picking out tunes on the piano when she was four years old. She started piano lessons when she was seven and has continued lessons for the last ten years. She has taken from three teachers, all of which have inspired and pushed her to practice and play her best.  Kirsten is a member of MVYSO's Symphony Orchestra where she plays violin.  She volunteers as a Music Buddy in MVYSO's Jam Club Program.  She performed Piano Concerto in A Minor, Op. 16, mvt. 1 by Greig.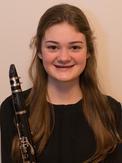 CLAIRE CUNNINGHAM - CLARINET
Claire had her musical start in the fifth grade, learning to play the clarinet through her school's music program in southern California. She began private lessons a year later. Shortly after moving to Washington in 2015, Claire joined MVYSO. Currently, she plays in the Symphony Orchestra and Elite Winds Ensemble, is a member of the Student Service Team and a "music buddy," helping members of MVYSO's Jam Club. She enjoys playing in the Tahoma Junior High School concert and jazz bands, and participating in Tahoma High School's Field Show Ensemble. Claire is interested in pursuing music, and continues to explore performance, theory, and composition opportunities.  She performed Clarinet Concerto No. 1, mvt. 2 by Weber.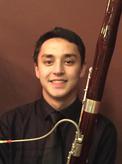 Dylan started out in MVYSO in 2008 as a saxophone player.  Because saxophone isn't usually an orchestral instrument and we were transposing a bassoon part for him to play on the sax anyway, we suggested that he might be good at bassoon.  Luckily, his sax teacher also teaches bassoon.  The rest is history!  Dylan has become an outstanding bassoonist!  Dylan is a senior at Tahoma High School and participates in Tahoma's Marching Band, Jazz Ensemble, and Wind Symphony.  He has participated in a number of honor bands including PLU Honor Band, WIBC, and Northwest High School Honor Band.  This year marks he won the regional Solo & Ensemble Contest Bassoon Competition.  He performed Concerto for Bassoon, Mvt. 1  by Mozart.